StarStim® is a wireless hybrid EEG/tCS 8-channel neurostimulator system. It includes the comfortable Neoprene Headcap which provides 39 positions based on the 10-10 system where the electrodes can be easily inserted. Among our electrodes, you may find wet and dry EEG electrodes, sponge stimulation electrodes, hybdrid EEG/tCS PISTIM electrodes, the dual reference EARCLIP and many others. Starstim® comes integrated with a powerful software named [NIC] (/products/software/nic/), with an intuitive user interface, that allows easy configuration and monitoring of stimulation parameters, recording and visualization of EEG and fast multifocal tCS electric field simulation using an advanced FEM head model. It is ready for research or clinical use, offering Sham and Double blind modalities as well as telemedicine using the NUBE Cloud Service. It is also fully compatible with our Neurosurfer neurofeedback software. Packed full of safety features, Starstim is a CE medically certified product. It is currently classified as an investigational device under US federal law.
High resolution tCS with simultaneous EEG monitoring.
Transcranial current stimulation (tCS) is a form of neuromodulation which uses low current delivered directly to the brain via small electrodes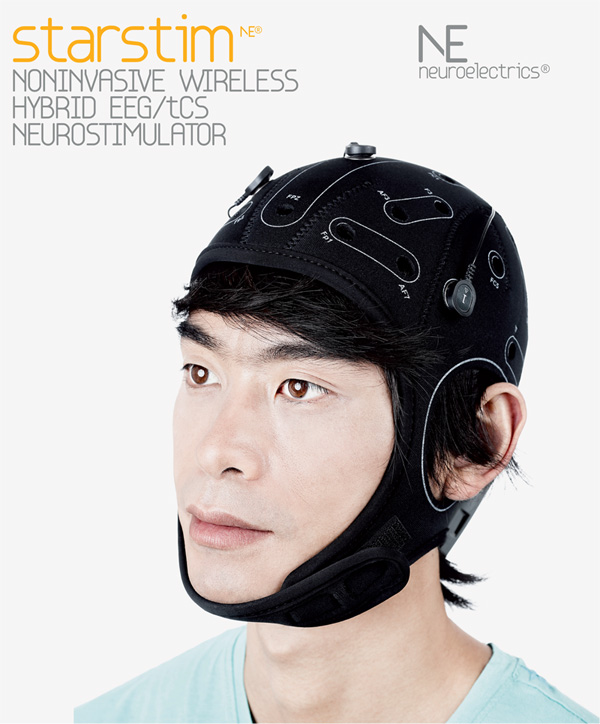 STARSTIM HOME RESEARCH KIT
Our telemedicine neurostimulation kit is intended to allow doctors and researchers to prescribe stimulation sessions using a specific montage and protocol for the patient at home. The NIC HOME software will guide the patient on how to apply each session for the prescribed protocol. The stimulation sessions are managed using a cloud platform called NUBE which allows doctors to remotely control the stimulations at home and easily follow up on the prescribed sessions.
The kit includes: one standard Starstim system for the researcher (a wireless multichannel EEG/tCS with tDCS, tACS, tRNS) + three Starstim tCS-only devices (no EEG) for home use + three laptops for home use + all the needed software + 1 year of NUBE cloud service.